Your Smile.
Our Passion.

Welcome to Bridget Singh DDS in Seattle, WA
Seattle Dental Services That Focus on You
Welcome to the practice of Bridget Singh, DDS, where patients can get thorough and affordable general and cosmetic dentistry. If you want restorative and healthy dental treatments, you have come to the right place. Our practice offers customized treatment plans no matter what kind of dental issue you may have. Everyone on our staff will work hard to ensure your comfort as we take the time to understand your treatment needs. Our goal is to provide you with superb dental care that will give you a beautiful smile and maintain your oral health.
We use state-of-the-art technology and the best and latest materials to create porcelain veneers, dental crowns, bridges, and other cosmetic restorations to make your teeth look beautiful. We understand that your time is valuable, so we'll aim to give you an accurate estimate of how long you'll spend in our office. Our practice is conveniently located in downtown Seattle near the offices for both Amazon and Google.
Request Your Appointment
We make it convenient to plan your visit. Click the link to request an appointment time that best fits your busy schedule. We can't wait to hear from you!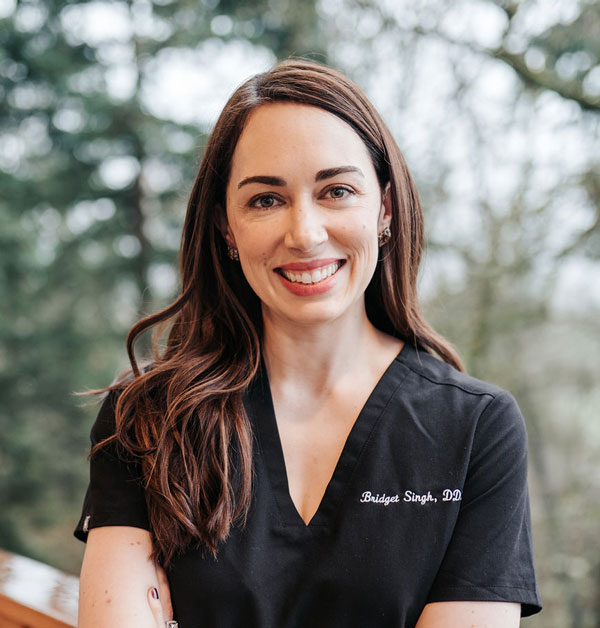 Meet Dr. Singh
Dr. Singh was born and raised in Longview, Washington, and attended Gonzaga University, earning an undergraduate degree in biology. From an early age, Dr. Singh knew she wanted to work in health care and decided on dentistry as it would allow her to combine her interests in the arts and sciences while meeting new people daily. She graduated from the Creighton University School of Dentistry in 2009 with a Doctorate of Dental Surgery. Dr. Singh's goal is to provide each patient with a comprehensive, pain-free experience. Dr. Singh and her husband Harman have two children – a daughter, Malia, and a son, Marshall. In her free time, Dr. Singh likes to hike, ski, cook, travel, and spend time with her family.
Our Patients Love Us, You Will Too!
Read reviews from our patients and leave your own.